Nesta terça-feira (06) a Skript Editora, em parceria com o perfil Fora do Plástico, anunciou dois dos seus próximos grandes lançamentos de 2021.
O primeiro deles é a HQ The Prisoner – Art Edition, com desenhos de Jack Kirby e Gil Kane, em capa dura e formato gigante, baseada no clássico seriado de mesmo nome que era televisionado nos anos 1967, no Reino Unido e Canadá, mas que só mais tarde chegou ao Brasil – co-criado , escrito, dirigido e estrelado por Patrick McGoohan.
O material, que se mantém inédito por aqui, foi publicado pela Titan Comics na Inglaterra, em 2018, e reuniu dezenas de artes, até então, perdidas de ambos os desenhistas, além de um fac-símile do roteiro original de Steve Englehart.
No total, a foram compiladas 18 páginas desenhadas por Gil Kane e 17 por Jack Kirby, sendo seis delas, com arte-finalização e letreiramento por Mike Royer.
A história do espião conhecido como "Número Seis" já foi contada em uma minissérie de quatro partes publicada pela DC Comics, em 1988, que chegou ao Brasil pela Editora Globo. Entretanto, depois disso, acabou sendo esquecida tanto na mídia televisiva, quanto nas HQs.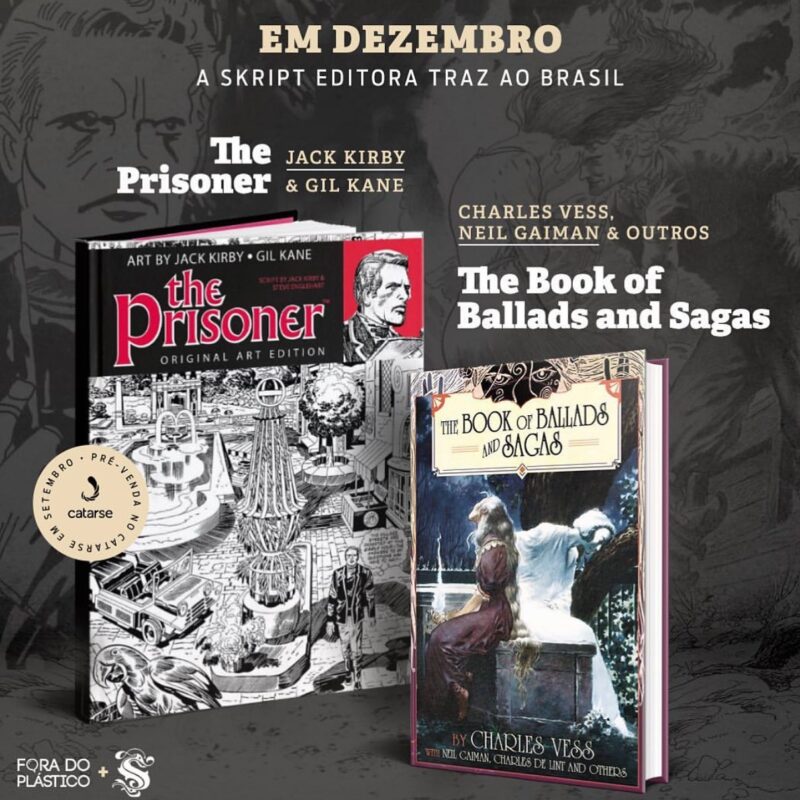 O segundo lançamento será o da coletânea de contos de fadas e folclore ingleses e escoceses The Book of Ballads and Sagas, de Charles Vess, Neil Gaiman e outros autores – também publicada pela Titan Comics, no exterior.
Premiada em diversos países, a obra conta com histórias de gêneros como terror, romance e principalmente, fantasia.
Apesar do anuncio e da previsão de lançamento para dezembro deste ano, a Skript Editora ainda não revelou detalhes sobre valores. Contudo, destacaram que, assim como suas outras publicações, como o faroeste futurista e pós-apocalíptico Redenção, ambos os lançamentos chegarão ao Catarse em setembro – e posteriormente, à Amazon também.